We have added a nice little enhancement to our Zero Results Optimizer. You can now see in Google Analytics what visitors were searching for on your site that resulted in an empty search results screen. Keep an eye on this report to see if visitors are consistently looking for something that you don't have. Or perhaps, they are using a different terminology than you are. In this case, consider adding the appropriate text to a caption field so that the search does not come up empty the next time. Remember that you have to enable ZERO in your tools page if it isn't already the case.
In Google Analytics, look for the Dynamic Content report: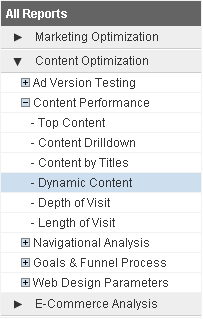 Then look for the entries /cgi-bin/nsearch and /no_results_search.html. Clicking on the + signs will show the list of search terms that yielded results and those that didn't, respectively.