How many sales are you losing right now due to Shopping Cart Abandonment?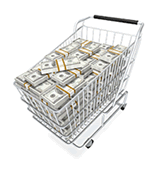 We all know the stats: According to various studies, 50%, 60%, even 75% of all carts are abandoned by online shoppers – better known as shopping cart abandonment. While there are many reasons why these shopping cart abandonment rates are so high, there are proven techniques you can use to recover some of such lost sales.
Sometimes all it takes to convert a visitor into a new customer is just some extra help, assurance or a little incentive. Our unique Shopping Cart recovery service enables you to get in touch via email with visitors who have not completed the checkout process.
Using our shopping cart recovery service is risk-free: Not only will we help you get set up for free, but we will only charge a typical affiliate commission for successfully recovered carts. Plus it's completely automated.